Merida eONE-SIXTY 500SE eBike - Medium 167-183cm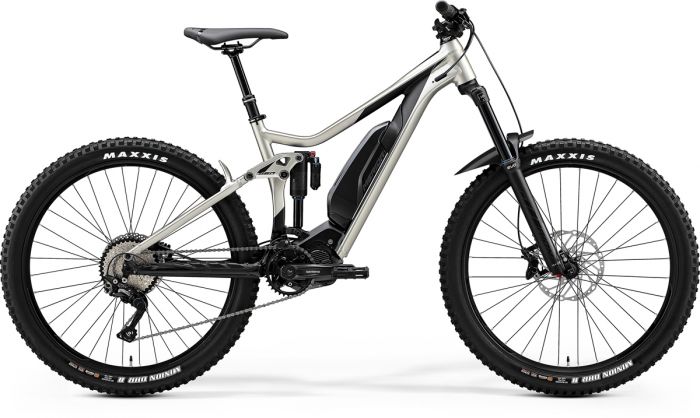 Location: GRANDCHESTER, QLD
Product code: ebikemedium
*Please note all hire bikes come fitted with flat pedals. You are welcome to BYO and we will fit them for you.
The Merida eONE-SIXTY 500SE electric mountain bike has been reinvigorated in 2020, designed to revolutionise the world of enduro e-mountain biking with its versatility and high-performance design. The eONE-SIXTY is built to make the most of the Shimano motor while you climb, and descend like your normal mountain bike with its finely tuned mountain bike geometry. The aluminium frame is built specifically for the eONE-SIXTY, ensuring it can withstand the rigours of mountain biking with the extra weight from the e-bike components, while maintaining a lightweight and nimble feel.

This is a truly cutting edge electric bike and Merida have optimised this bike so that it performs at its best both as a mountain bike and an electric bike. The Shimano E7000 drive unit and Shimano E8010 battery form a formidable duo, giving you plenty of power and range to ride faster for longer on the trails. Merida has created a durable two-component battery cover to protect the battery and reduce noise so that you have the best ride possible. While a Thermo Gate near the head tube allows the motor to breathe and perform at its best in any conditions. On top of that, the Merida Expert eTR Cockpit organises your e-bike cables internally with a clean and simple look just to really make sure that the 504wh Shimano battery is optimised.
The eONE-SIXTY is built to attack any climb or descent thanks to a 150mm Merida Expert TR dropper seat post with a Shimano paddle style dropper seat post leaver, that fits neatly to the brake lever bracket underneath the handlebars for easy access and maximum performance. To truly take this bike to the next level Merida have fitted the aggressive Maxxis DHRII 27.5" tyres for extra traction and an incredibly nimble and thrilling ride.
The Merida eONE-SIXTY 500SE is a powerful yet agile e-bike which really packs a punch on the trail. Big on travel, tyres and comfortable geometry, this bike is built to dominate any challenge in a way that keeps you wanting more. Merida have gone all out to maximise the benefits of the Shimano e-bike system to create a bike that delivers an unrivalled look, feel and ability so that you ride faster, harder and longer in style.
Features
Expert TR Dropper Post: MERIDA dropper post allowing the rider to get the saddle out of the way when the gradient gets steeper, giving him/her more space to maneuver and control over their bike. Our 150 mm post fits completely into the seat tube of an M size frame, while the L and XL frame can accommodate even a 170 mm dropper. As all our e-bike specced parts, it has been tested and certified for a 140 kg system weight.
Shimano Battery: Powerful internal lithium-ion battery that offers 504 Wh, charges up from 0-100% in 5 hours (when EC-E6000 charger is used) and retains at least 60% of its original battery capacity after 1,000 charging cycles. The aluminium cased battery is extremely compact allowing us to seamlessly integrate it into the downtube for ample space for the rear shock, added water bottle fixing points and plenty of top tube clearance. It has a waterproof design and is impact and vibration resistant.
Shimano Shifter-R and dropper seat post lever: Very compact and well-defined assist level shifter that helps to keep the cockpit clean and less clattered, while it also enables easy access to the Shimano paddle style dropper seat post leaver, that fits neatly to the brake lever bracket and is positioned underneath the handlebars.