2021 Merida One Forty 700 - Large 177-190cm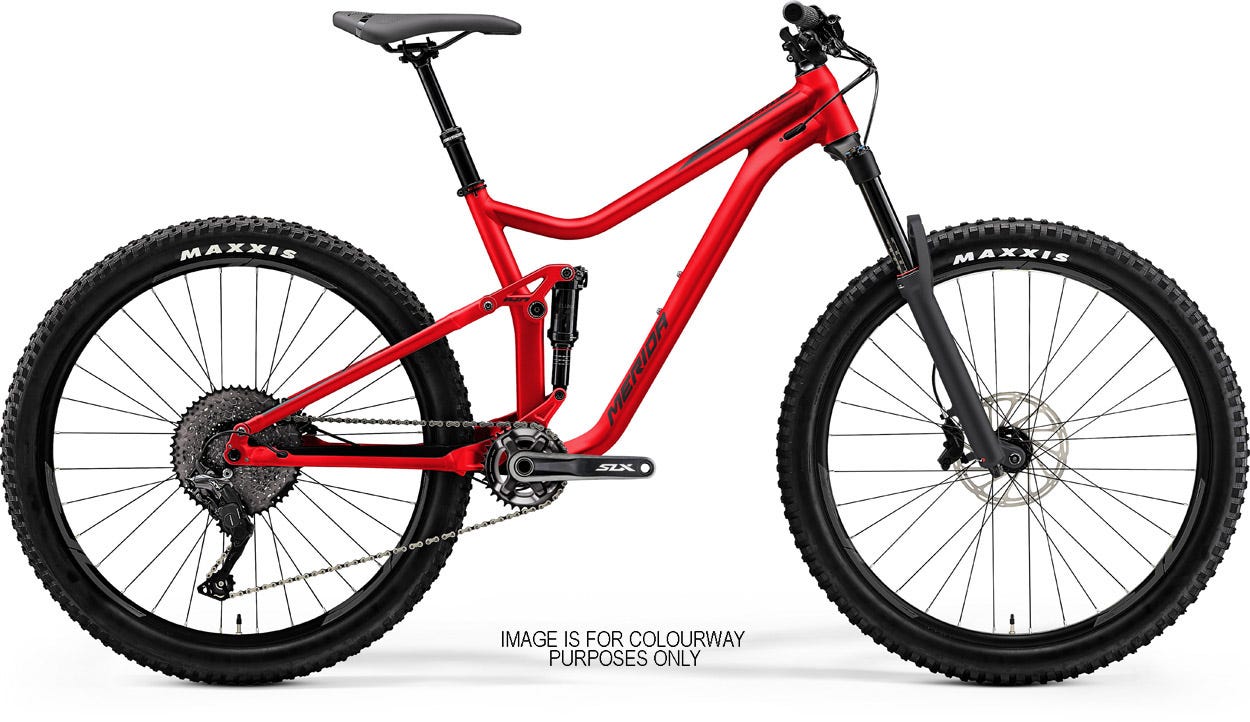 Location: GRANDCHESTER, QLD
Product code: 2021onefortylarge700
*Please note all hire bikes to be returned by 2:30PM. They come fitted with flat pedals. You are welcome to BYO and we will fit them for you.
L 177 - 190 cm
KEY FEATURES
The Merida One Forty 700 Dual Suspension Mountain Bike is an impressively versatile bike that balances speed and efficiency with comfort. The alloy frame has a well-balanced reach and a lower centre of gravity and when you add in the short stem and wide handlebars it delivers a confident and playful ride. The trunnion mounted lower shock mount moves with the system to deliver plushness and pedalling efficiency, making the most of the Rock Shox Deluxe Select+ rear shock. The Marzocchi Z1 Fork with 150mm travel is more than capable and helps give this bike cutting downhill performance.
Like all modern trail bikes it has a lightweight and simple 1x12 speed drivetrain, with a combination of Shimano SLX and XT components for a smooth ride and excellent efficiency. You'll be able to really let it rip and ride with your own style thanks to the Merida Expert dropper post, a handy inclusion for the aggressive mountain bike rider. One of the standout components is the Shimano SLX 7120 Hydraulic Disc Brakes which offer unmatched responsive control that will impress. The Maxxis Minion 27.5x2.5" front tyre and Maxxis Dissector rear tyre were specifically selected for a combination of speed and control when matched with the Merida Expert Rims. Ultimately the Merida One Forty has an outstanding suspension setup that is matched with balanced handling for a dynamic dualie that won't let you down.
Features
Balanced Trail Geometry: The geometry of the ONE-FORTY is influenced heavily by its bigger brother, the ONE-SIXTY, by mimicking the short chainstays (435 mm) for increased agility and playfulness on the trail. A well-balanced reach and low centre of gravity combined with a short stem and wide handlebar deliver fun-packed yet confidence-inspiring handling.
Float Link Suspension: The lower shock mount moves with the system to deliver plushness and pedalling efficiency. Our engineers can precisely influence the transmission ratio and progression, which means that the Float Link system is very sensitive, delivering great support in mid-travel and the appearance of more travel that the model name suggests. The rear end creates the feeling of almost bottomless travel whilst remaining perfectly controlled when climbing.
Trunnion Mount: A trunnion mount shock gives our frame designers more flexibility by using a shorter shock with increased stroke. Combined with the ball bearing bushing of the upper mount, shock sensitivity is increased, and the suspension performance can be perfectly tuned.
1x Drivetrain: Modern trail bikes are all about simplicity, durability and efficiency and modern 1x drivetrains offer a huge gear range whilst remaining lightweight. Building our frame around a 1x specific setup allows us to keep chainstays short, adding to the agility and playfulness of the bike. Perfect for todays demanding trails.
Tyre Clearance: The ONE-FORTY has clearance for up to 2.6" wide 650B tyres, allowing plenty of extra room to fit the right tyre for the track. Extra wide tyres deliver increased levels of grip and comfort when the track gets rougher and more demanding, significantly improving the overall handling and riding experience.